Festival Site
Amazing purpose built venue comprising three stages sited on the Lews Castle Green in Stornoway which offers free standing concerts catering for over 5000.
This venue, which is easily visible, is a short 10-minute walk from the town centre along Bayhead Street, across the walkway beside the new Bridge Centre and back along the road within the castle grounds.
There are a range of food stalls, licensed bar and tea, coffee and soft refreshments available on site.
There is no parking onsite and patrons are advised to leave all vehicles in main town centre and walk to the venue. For the comfort of our disabled patrons there is access to festival site for blue badge holders. There are disabled viewing vantage points situated within the two easily accessible marquees.
No animals, with the exception of registered guide dogs, will be admitted to the festival site.
Arena opens Thursday from 5pm and Friday / Saturday from 1.30pm. Gates close at 10pm.
The main exit from the castle grounds is located in a residential zone and patrons are asked to be mindful of this when leaving the venue late at night.
HebCelt 2023 Site Plan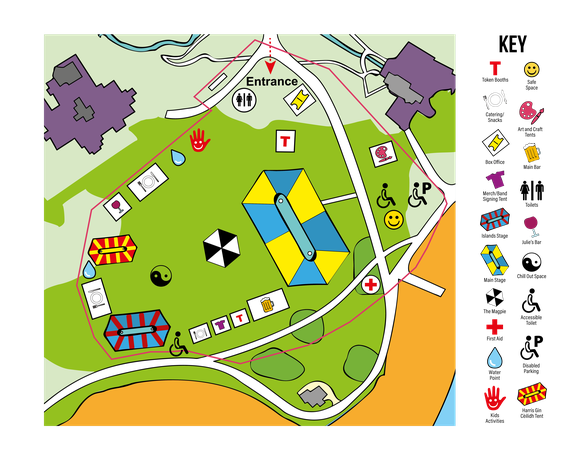 Please note there are new access arrangements for the site this year please familiarise yourself with them.
An Lanntair
Fabulous arts centre located in Stornoway's town centre opposite the bus station looking out onto Stornoway harbour
Venue for many events, including the popular late night festival club.
An Lanntair offers a year round multi arts programme with gallery and shop on the lower level and restaurant and bar on the second floor which enjoys magnificent views over the harbour.
Evening concerts start at 7.30pm. Ceilidh dances and club nights: doors open from 10.30pm.
Bùth HebCelt (Festival Shop)
Get your tickets, buy a t-shirt or hoodie and get your queries answered by our friendly shop staff. This changes every year, details will be made available on the Ticket Collections page.
Town Hall
Located in the centre of town near The Narrows this venue hosts the family concerts each morning from 11.30am, this year on Wednesday and Thursday. Moves to An Lanntair for friday,. A super relaxed hour of tunes with the wee ones at the heart of it.
The Narrows
This is actually the crossroads in the town centre of Point Street and Cromwell Street punctuated by the Town Hall, Boots, and McNeills Bar.
Breasclete Community Hall
Located on the scenic west side route this community hall is managed and run entirely by local volunteers. Each year they host an event on the Wednesday night and very proud they are too of this tradition. A stone's throw from the world famous Callanish Standing Stones be sure to call by there at some point during the festival. Check out this year's event here.