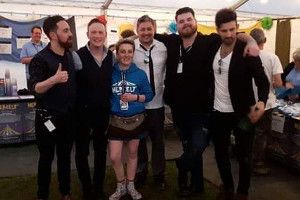 Festival role: Retail Team Leader
How did you get involved in the festival?: How did you get involved in the festival? Back in 2013, just after I moved to the island, a few locals recommended I volunteered, and I've never looked back! Started in the stewarding team, helped a friend out with her stall the second year, and have been in retail ever since.
What makes HebCelt special?: The feeling of the festival - we're one big family, and it's always got that family-feel, even if the rain is pouring down and the wind is attempting to lift the tents! Of course when the sun is out it's 10x more special!
Best festival memory?: Far too many! But a few years ago, I sold Dougie Maclean a unicycle, on the promise he wouldn't attempt to ride it before his set! It was most definitely a 'What just happened?' moment.
Favourite festival gig?: I definitely struggle to pick a favourite for each year, let alone since 2013. Some of my favourites however have included Runrig, Tidelines, Imelda May and Julie Fowlis.