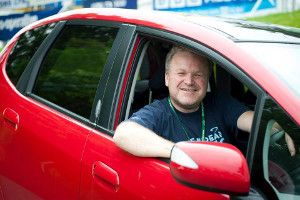 What is your role? Former Finance Director
How did you get involved in the festival? I started out doing the annual audit as a favour for the then treasurer in 1997 and it kind of mushroomed.
What makes HebCelt special? I think, for me, it's the unique family atmosphere behind the scenes and the fact that it's completely grounded in the local community. Oh, and the amazing artists we've attracted over the years. And the spectacular setting.
Best festival memory? Difficult to choose. Taking The Waterboys to Calanais, birdwatching with Afrocelts, getting throat singing lessons from Mongolian singer Tserendavaa while driving him in a minibus to Bosta (he'd never seen the ocean before). Or maybe the time a pod of dolphins followed the pipe band around the harbour on the opening night.
Favourite festival gig? Has to be Van Morrison's consummate show in 2005