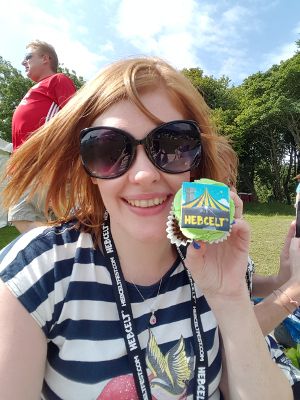 Festival role Team Leader- Site Box Office
How did you get involved in the festival? My Mum was a volunteer at the festival from when I was very young. I used to tag along and help her at the children's events at the Town Hall. As I have grown up I have had different roles each year, including box office, family ceilidhs, stewarding, token selling and the site box office. The festival has always been a part of my life!
What makes HebCelt special? The friendliness of the organisers and the bands and artists playing. The event has such a relaxed vibe that it rubs off on all involved which makes it feel like a big family. I love when festival time starts so you can catch up with everyone and meet new friends along the way.
Best festival memory? It is so tough to pick just one favourite memory as there have been so may over the years. A highlight for me was taking my wee boy to his first every HCF last year. He had a fabulous time with the circus and then dancing the night away in the tent. The weather was incredible too so we sat on a blanket at the back of the tent, drinking Pimms and chilled watching the bands. It's fantastic how family friendly HCF is, there really is something for everyone.
Favourite festival gig? "The Fox Hunt"- All their performances were fantastic and topped off with a jamming session until sunrise in the Royal Hotel. Sketch and Ahab were also highlights for me. There are far too many to choose from.